When we start working with a client we always recommend a CX audit to check where they are at that time. The reason that this is so important is that events or competing agendas can often deflect CX teams from their core CX goals. It also makes sense to fully understand what that vision currently is and to explore how well the organisation is living up to this.
When it comes to events, it clearly doesn't get any more major than the current global pandemic, so now is an ideal time to take stock of where you are.
But many organisations will say, we've got a great online capability and a CX programme setup to monitor this so why do we need to revisit the CX plan? Here are a few reasons why you should consider it:
Your online processes may have worked well when 20% of your business was conducted that way but when it is 80-90% then it is likely to need some attention as will all of the associated fulfilment processes. It may also be that some segments are still struggling with the digital route to market and need further help.
You have done great work moving all of your employees to work at home but 10 months later, initial excitement and a sense of wartime spirit has given way to boredom and claustrophobia, particularly as England grapples with a third national lockdown. What are you doing to keep people focused on the company goals and providing great customer experiences when they are worrying about how they are going to look after their kids as schools are closed once again.
Customers are facing hard times as lockdowns have jumped from regional to national during the winter months. Stress levels are likely to rise after people remained apart through a Christmas largely cancelled by healthcare needs. Are existing customer segmentations ready for this and are contact centre staff prepared for rising irritation and stressed-out consumers?
Moving out of lockdown and back to a more normal life may not be far away so planning for this transition is key for both customers and employees. Being able to flex with changing circumstances is one of the biggest lessons of the last 12 months.
Many of the tools that are needed to succeed in our changed world are already with us and successful organisations either made the investment in them previously or have moved swiftly to adopt them in the last year.
An audit of where you are right now will help to identify where remaining gaps are and where a shift of strategy is required to prosper in such challenging times.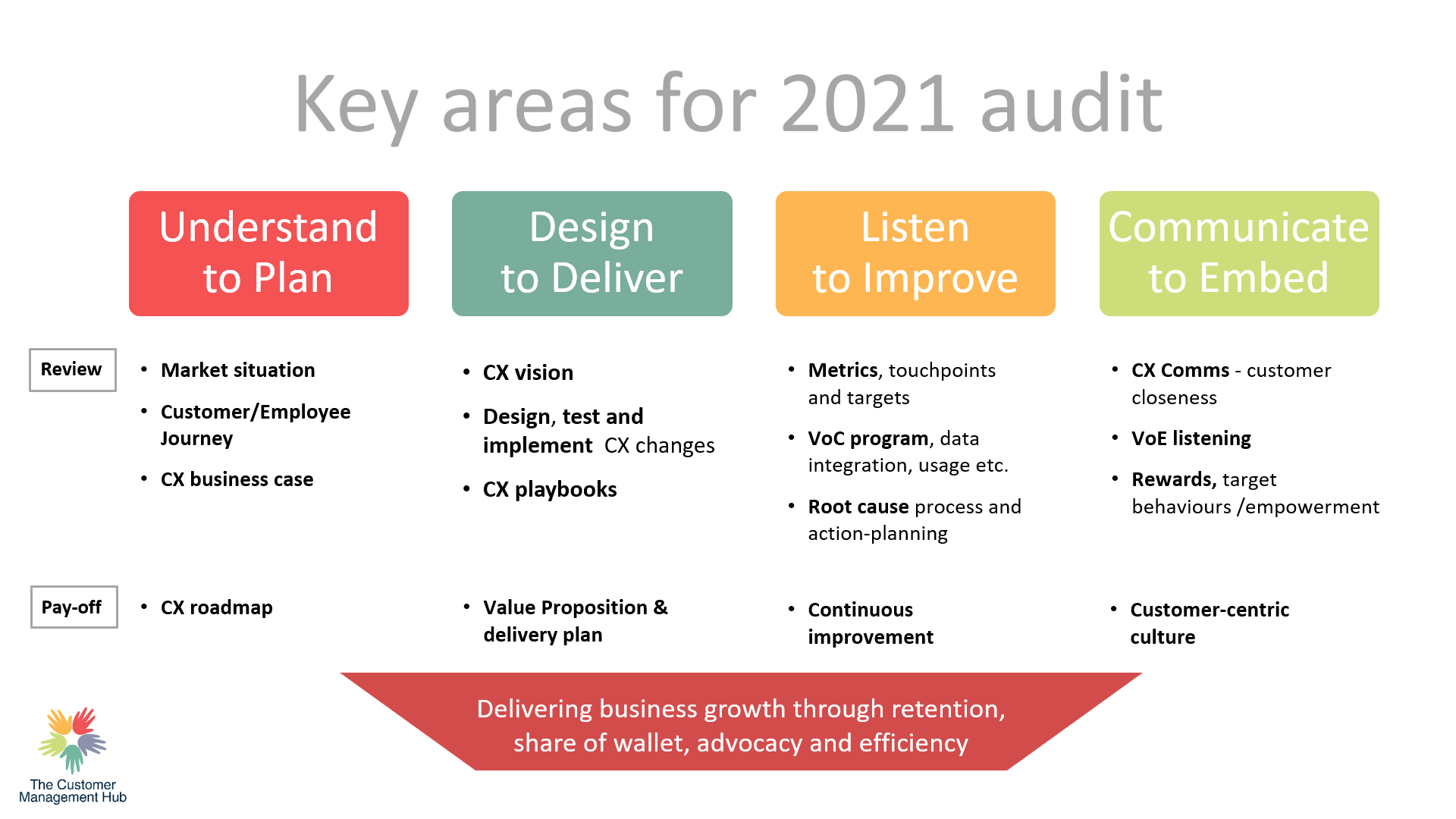 Key areas that need to be addressed in an audit of the business in 2021:
3 areas that are very relevant at this time are reviewing the market situation, customer and employee journeys and the VOC program.
A good understanding of the market situation is vital to planning how to move forward and this needs to include what are the trends that are driving success in the market, which segments are key to this for your company and what are the priority drivers to focus on to keep and grow your business.
Some key trends that may be relevant to your business include:
Neighbourhood hubs – the crisis has placed a value on facilities that are available close to home rather than a long drive or commute. Increased cycling and environmental concerns are also driving people to find solutions that are closer to where they live and not where their work is based. It is difficult to know how much of this is long term but definitely one to watch.
Wellbeing focus – issues around mental health and physical fitness have played a major role over the last 12 months and are unlikely to reduce as we move beyond lockdowns. Looking beyond employee schemes for cycle ownership and gym membership, it is worth learning from other lockdown initiatives. Microsoft, for example, has been partnering to introduce a virtual commute to aid people access relevant content at both ends of the day that can help them prepare themselves mentally at the start and reduce stress when work is finished.
Where we see the most engagement is around the customer journey and how this has shifted with the pandemic. It is vital as you plan how to deliver the best customer experience that the employee's journey is understood at the same time so that they can be in the best position to deliver when required. Some changes of particular relevance here include:
Return to the high street – when the lockdown lifts and people feel more comfortable returning to the high street, retailers with both an online and high street presence need to find ways for their stores to better complement their online presence so that customers have a reason to visit. Retailers have been experimenting with this for years but now is a real crunch time if high street retailers are to reset the balance away from the dominance of online. Understanding the shopper journey is crucial to enabling the repopulation of the high street. What are the enduring triggers for people going to the high street in the first place?

If online shoppers are using click and collect, how can you give them a reason to spend more time in the store when they visit?
Can partnerships with local coffee shops give people a reason to visit your store?
Discounts only available in store but promoted online could also tempt customers but care needs to be taken not to make customers feel manipulated and drive them to other retailers.

Encouraging employees back to the office may be better for their wellbeing and mental health albeit for short periods to start with. Some employees may need the social benefits of the office but be fearful of moving away from home-working. Organisations need to be sensitive to any transitions and provide inclusive reasons to come into the office and spend time with other team members face to face again.
And to pick a third critical area from our audit framework, a review of your Voice of Customer (VOC) programme may be necessary depending on how it is structured and conducted. If the pattern of customer purchase has changed significantly due to the pandemic, then the way you gather customer feedback may also need to adjust. What are some of the aspects you should examine:
Some programmes will target feedback at parts of the customer journey that are less common in order to get enough data. If that pattern has changed, and will change again, then this needs to be constantly monitored to ensure you are getting enough data for key journeys to make the right decisions. For example, returns are up significantly in some categories[1] during the pandemic as people are less able to view products in-store. Return routes may change as people feel more or less safe with differing options and this needs to be explored as it can be a deciding factor for e-commerce.
As the mix of interactions shifts due to external factors such as the pandemic, care needs to be taken in interpreting the data from your VOC programme. Clearly big shifts in demand may move scores as resources struggle to flex, but there are other issues to watch. Feedback from different interactions will vary dependent on the interaction itself and the channel through which feedback is sought. SMS feedback behaves differently from email triggered online surveys and website pop-ups. Rolling up and interpreting scores from these varied interactions can be a challenge at the best of times but when the pattern of these shifts dramatically overnight and then moves back again over the course of a few months, then extreme care needs to be taken in drawing the right conclusions.
These are just three of the areas normally covered in a CX audit which we find are most in need of attention at the moment. Although COVID 19 may have changed the way that people interact with each other and accelerated the move to a variety of technologies such as contactless payment and home-working, it has not changed the fundamentals of what we look for in a product or service. Organisations need to be able to flex quickly to respond to shifts in customer demand and interaction type, employee needs, competition and, of course, political/trading changes such as Brexit. We have previously explored how Agile organisations help to put customers at the heart of decision-making and within a CX Audit we apply the same yardstick to ensure that changing customers' needs and experiences are understood and acted upon.
Niall Rae and Stephen Gosnell January 2021
[1] Financial Times – Customer returns hit retailer profits  https://www.ft.com/content/fd912b71-4d16-40fb-ba25-3f7f8620d8c1